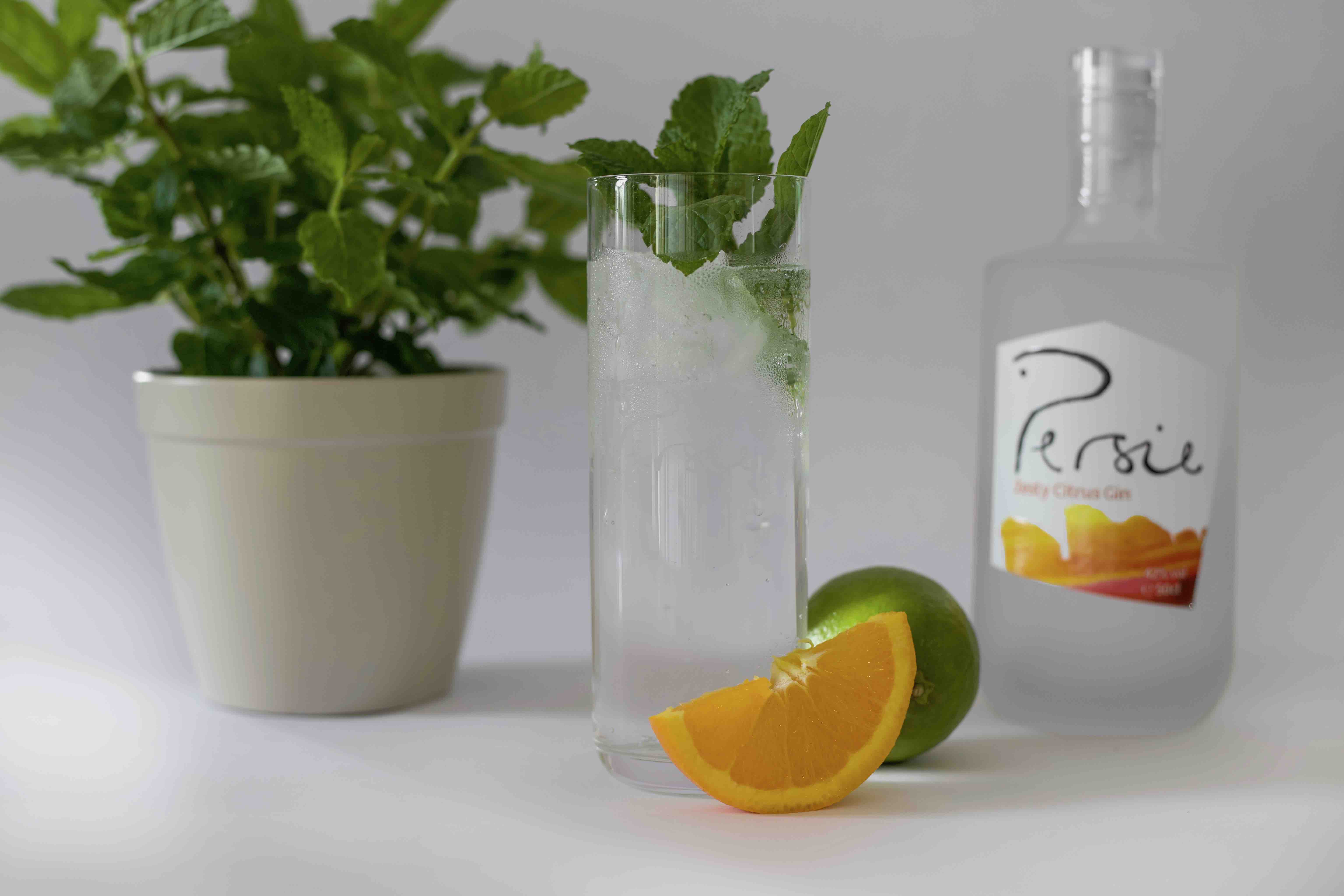 The Starter.
Created with juniper, fresh oranges and limes.
Sniff it
An explosion of limes and blood oranges with piny notes.
---
Mix it
Crack open a bottle of plain or elderflower tonic – or rose lemonade if tonic's not your thing. We like it 50/50. See the gin louche with all that zest! Or if you're feeling in the mood for a sweetener, why not try a Hugo? First pour your gin, then top up your glass with Prosecco and add a splash of elderflower cordial. To finish it off nicely, muddle with a little mint.
---
Glug it
Sharp citrus cut-through with a long, zingy finish.
---
Work it
Bring out the key botanicals with a little torn mint and a thumbnail of lime peel.
Testimonials
Zesty Citrus Gin
"Very smooth with no sharp kick. Lemony and zesty with a lovely fresh taste."
2016-05-02T10:00:56+00:00
"Very smooth with no sharp kick. Lemony and zesty with a lovely fresh taste."
https://www.persiedistillery.com/testimonials/very-smooth/
Zesty Citrus Gin
"Lemon, lime and kumquat on the nose. To taste, delicious, bursting with freshness. Lovely little bitter burst and fresh citrus notes of orange blossom to finish."
2016-05-02T10:01:49+00:00
"Lemon, lime and kumquat on the nose. To taste, delicious, bursting with freshness. Lovely little bitter burst and fresh citrus notes of orange blossom to finish."
https://www.persiedistillery.com/testimonials/the-best-gin-i-have-tasted/
Zesty Citrus Gin
"Sweet citrus, very smooth with a lingering finish. Could easily drink this gin neat!"
2016-05-09T11:51:54+00:00
"Sweet citrus, very smooth with a lingering finish. Could easily drink this gin neat!"
https://www.persiedistillery.com/testimonials/zesty-citrus-gin/
Zesty Citrus Gin
"The smell is citrus with floral. The taste is refreshing – it hits the tongue with a zing!"
2016-05-09T11:53:07+00:00
"The smell is citrus with floral. The taste is refreshing – it hits the tongue with a zing!"
https://www.persiedistillery.com/testimonials/zesty-citrus-gin-2/
Zesty Citrus Gin
"This gin is like Cointreau. It slips down the back of the throat."
2016-05-09T11:53:59+00:00
"This gin is like Cointreau. It slips down the back of the throat."
https://www.persiedistillery.com/testimonials/zesty-citrus-gin-3/
Zesty Citrus Gin
"Lovely on the nose - it was citrusy and made my mouth water. Comforting and warming, it had a smooth, zesty flavour which lingered for a long time."
2016-05-09T11:56:27+00:00
"Lovely on the nose - it was citrusy and made my mouth water. Comforting and warming, it had a smooth, zesty flavour which lingered for a long time."
https://www.persiedistillery.com/testimonials/zesty-citrus-gin-4/