Persie Dog Gins
Persie Distillery joined forces with PADS (Perthshire Abandoned Dogs Society) in 2018 as its dedicated charity partner with a commitment to support the team's work in providing care and shelter for unwanted dogs. To support the charity, we are releasing a series of 'dog gins' – where the breed is reflected in the gin! Best of all, for every bottle sold in our dog gin family, we donate £1 to PADS.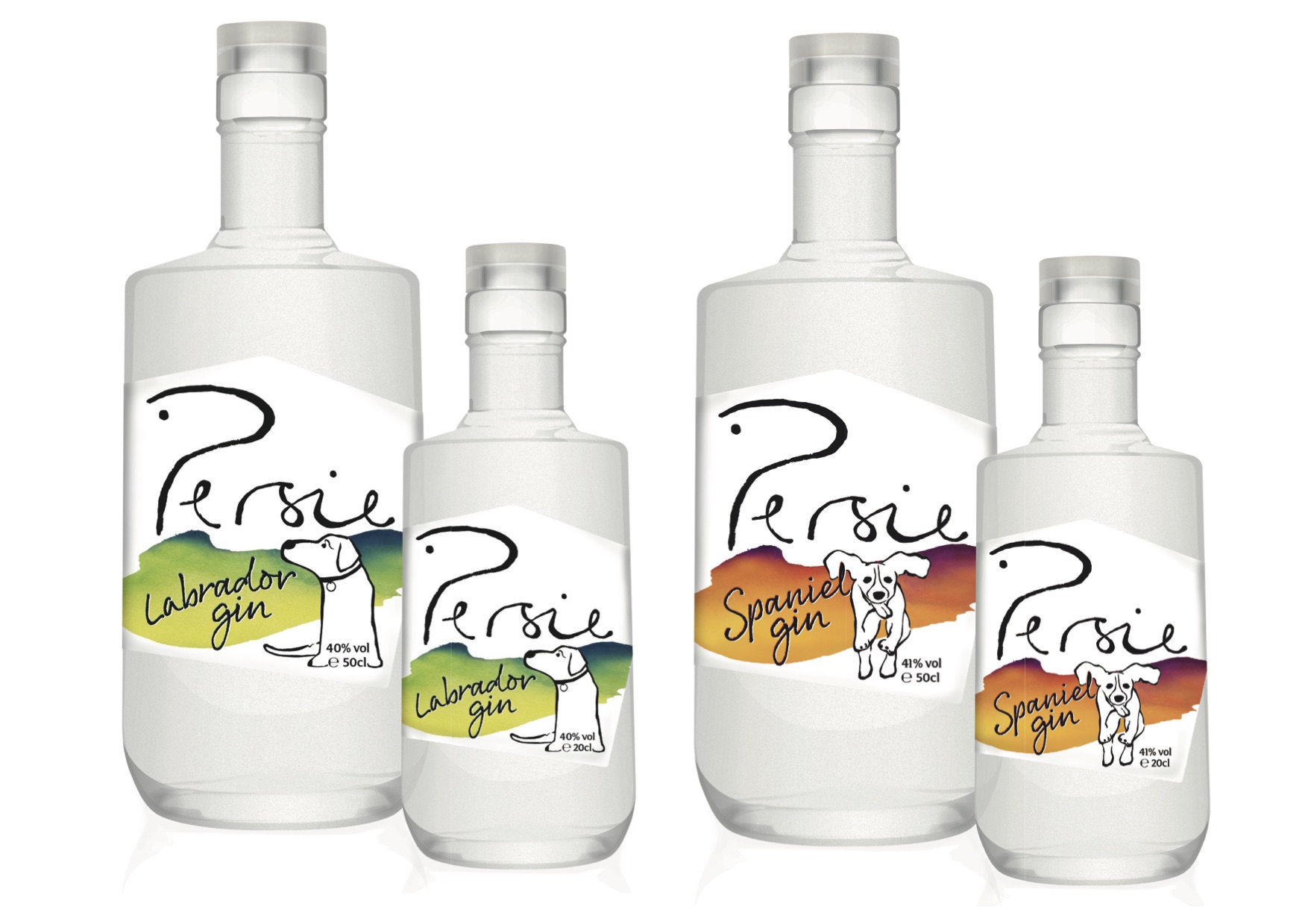 Labrador Gin
Like the breed, Labrador Gin is traditional, mellow, soft in the mouth and warming. It is fresh and playful up front, then soft and warming once it settles.
What makes the gin traditional is bags of juniper on the nose. What makes it soft and warming is cardamom and coriander, which rise to the surface once you add tonic.
Suggested serve: light tonic, a slice of lemon and some torn mint.
Spaniel Gin
Like the breed, Spaniel Gin is spirited and spicy but very gentle. This gin has great warmth and intensity with a silky soft coating.
What makes the gin spicy is the use of mace and cinnamon as dominant botanicals. The gentle finish is down to bay leaves.
Suggested serve: full fat tonic or ginger ale, plus a wedge of lime or mace blades.
---
Dachshund Gin
Coming soon!
Testimonials
Zesty Citrus Gin
"Lemon, lime and kumquat on the nose. To taste, delicious, bursting with freshness. Lovely little bitter burst and fresh citrus notes of orange blossom to finish."
2016-05-02T10:01:49+00:00
"Lemon, lime and kumquat on the nose. To taste, delicious, bursting with freshness. Lovely little bitter burst and fresh citrus notes of orange blossom to finish."
https://www.persiedistillery.com/testimonials/the-best-gin-i-have-tasted/
Sweet & Nutty Old Tom Gin
"The smell is of nuts generally, especially almonds. I usually prefer my gin as dry as possible but this Old Tom was a pleasant surprise when I had it with ice. It would also make a wonderful base for sloe gin."
2016-05-09T12:01:17+00:00
"The smell is of nuts generally, especially almonds. I usually prefer my gin as dry as possible but this Old Tom was a pleasant surprise when I had it with ice. It would also make a wonderful base for sloe gin."
https://www.persiedistillery.com/testimonials/sweet-nutty-old-tom-gin-2/
Herby & Aromatic Gin
"This smells of thyme and other herbs. Savoury and earthy. It is clean to taste – almost makes you believe you will escape the inevitable hangover! Smoother than other gins I have had."
2016-05-09T11:58:11+00:00
"This smells of thyme and other herbs. Savoury and earthy. It is clean to taste – almost makes you believe you will escape the inevitable hangover! Smoother than other gins I have had."
https://www.persiedistillery.com/testimonials/herby-aromatic-gin-3/
Sweet & Nutty Old Tom Gin
"A strong and appealing smell – woody and nutty with a sweet smell I can't put my finger on. The gin provides the palate with exactly what the nose passed down – a subtle woody taste with a little cinnamon spiciness and a sweet kick."
2016-05-09T12:02:27+00:00
"A strong and appealing smell – woody and nutty with a sweet smell I can't put my finger on. The gin provides the palate with exactly what the nose passed down – a subtle woody taste with a little cinnamon spiciness and a sweet kick."
https://www.persiedistillery.com/testimonials/sweet-nutty-old-tom-gin-4/
Herby & Aromatic
"A bit of a taste of the Mediterranean; for an evening when you want to taste a slightly different gin. It's complex, with rosemary, sage and oregano flavours. Very easy to drink on its own – no hard burn that you get with various other gins."
2016-05-09T11:59:54+00:00
"A bit of a taste of the Mediterranean; for an evening when you want to taste a slightly different gin. It's complex, with rosemary, sage and oregano flavours. Very easy to drink on its own – no hard burn that you get with various other gins."
https://www.persiedistillery.com/testimonials/herby-aromatic/
Zesty Citrus Gin
"Lovely on the nose - it was citrusy and made my mouth water. Comforting and warming, it had a smooth, zesty flavour which lingered for a long time."
2016-05-09T11:56:27+00:00
"Lovely on the nose - it was citrusy and made my mouth water. Comforting and warming, it had a smooth, zesty flavour which lingered for a long time."
https://www.persiedistillery.com/testimonials/zesty-citrus-gin-4/